UTAH // One for the books
I feel like life the past couple weeks has been just one huge creation of my imagination.. Utah was something I don't think I could have even dreamed up. I booked my flight to California to visit Turner for that week a couple months ago, when I was in Yosemite last we threw the idea out there of going to Zion since it would be my first time. Not knowing we'd actually be headed there.
I'm happy we had no plan really when I first booked the ticket and then also when I finally landed. He picked me up from the airport and I threw together a map with some random places I've been dying to see. We barely looked at the route and then the next day we were off, just knowing we would travel through Vegas first. Stopping off at Valley of Fire.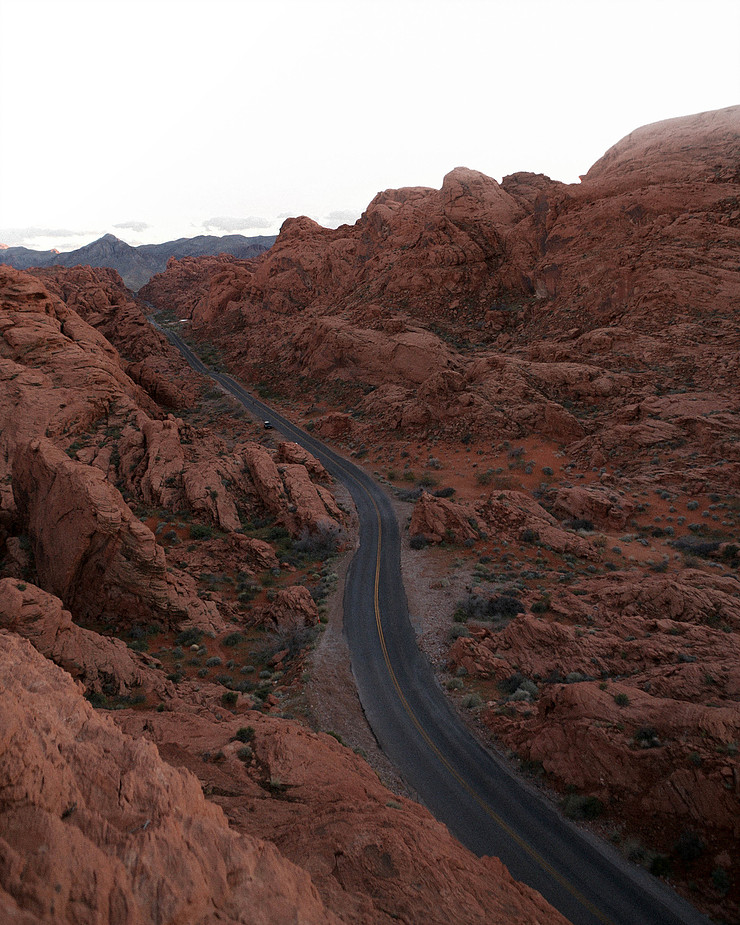 I saw my first photo of here only about a month ago and when I realized it was on the way to Utah I forced Turner to stop here. Turning it into one of the best places we visited on our trip.
Driving these roads through the rolling hills and as the sun set was something that felt almost unreal, you could see the roads go on forever and ever.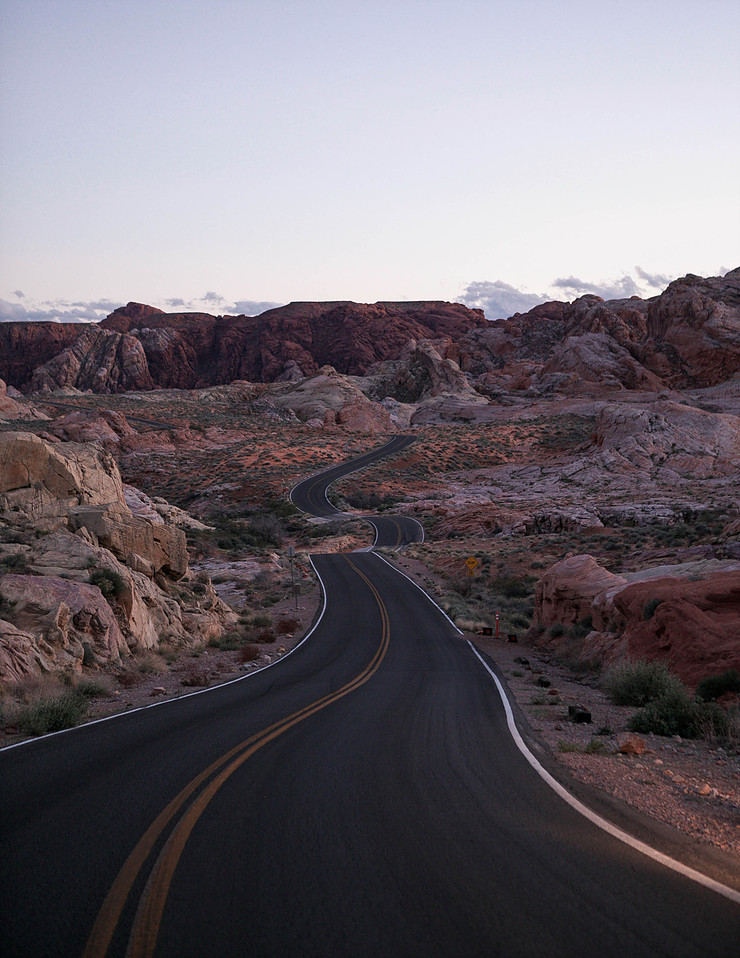 I thought to myself about how I wish time were infinite, how I could either pause it to explore every crevice this place had to offer. Or how life and these moments could just be endless. I truly was at loss for words during this sunset.
We ended up seeing another group of photographers as Taryn (His dog) and I walked the long road and Turner got some shots of us. It turns out one of them had followed me on Instagram so we ended up all running around the valley taking photos in every which way since it was a first time for us all there.
After finding out they were from Montana and on a 10 day long road trip we asked if they wanted to go to Zion with us for the next day, not knowing they were headed there already.
We followed them as they found us a free campsite just outside the park where we all set up for the night and quickly knocked out. The guys didn't know we had went through a different time zone so their clocks were still behind, luckily Turner is a die hard sunrise fanatic so we were up and barely able to catch a little bit of light.
We started the morning off at Observation Point in Zion because we didn't want to leave Taryn too long in the car alone. Once we got to the top I strayed away from the rest of the group and sat at the ledge overlooking this view.
I felt like I was at the edge of the world, the way the sun lit up the valley was indescribable. That's why I never mind getting to places in the dark because you literally get to wake up with the world the next morning.
I sat here for awhile taking it all in, thinking about how excited I was for the rest of the day.
We went back from Zion to where our campsite was and decided to just drive to the end of the road and see where it took us. The views were crazy, seeing mountains I'm not familiar with while also seeing the bright red colors from Zion was beautiful. We explored here for awhile and then parted ways as Turner and I headed to Bryce Canyon.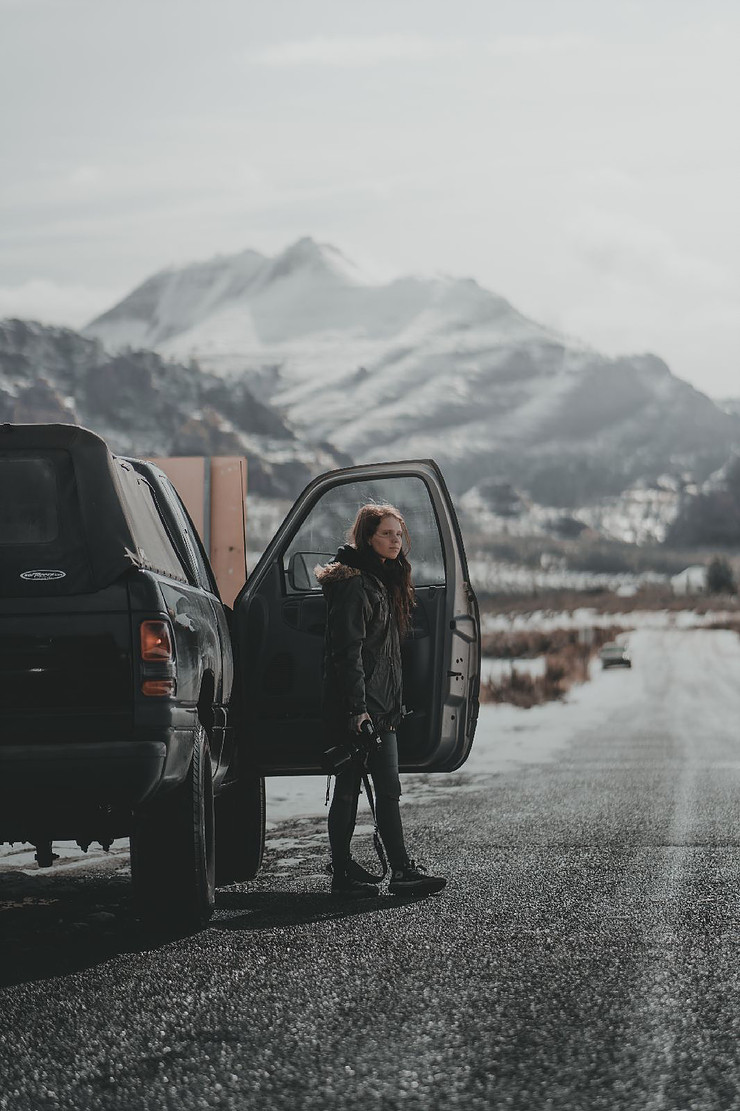 Photo by our new friend Eric Matt
Bryce Canyon was hands down the most beautiful place we went this week (Let's see how many times I say this about other places too) The sunset wasn't anything special, the sky didn't change colors before our eyes or make the whole place glow. But it was still so magical. I've never seen anything like these rock formations, I again sat at what felt like the edge of the world. Believe it or not, it was actually sort of warm for being in a dress and having it lightly snow. The scene was seriously so gorgeous. I never wanted to leave, so we decided we had to camp out here so we could watch sunrise.
I always have a hard time waking up for sunrise, that's where Turner comes in because he can always get up and at it so quickly. We came to the conclusion on this trip that we'll always have to set the alarms for an extra 20 minutes that way we don't miss sunrise due to me hiding under the covers.
"You'll thank me later" he said as I literally was shaking as we walked the trail to our sunrise spot, ironically called "Sunrise Point" here in Bryce Canyon. But man, was he right.
I don't think I can recall another sun rise as beautiful as this. It took a slow but beautiful 25 minutes for the sky to illuminate and fill with all sorts of different colors. I couldn't stop spinning around looking every way because I simply couldn't believe my eyes, I felt like I was in a painting coming to life. Or even better being made in the moment. We sat quietly, Mother Nature saying all that we couldn't put into words. I only heard my heart beating and the sniffles from my runny nose. I wouldn't have changed anything about this moment. 8AM or so we finally came to the agreement that we should cook up some breakfast or explore more than this area, that was until the sun burst through the rest of the clouds and we stopped to take more photos. I never wanted this moment to end.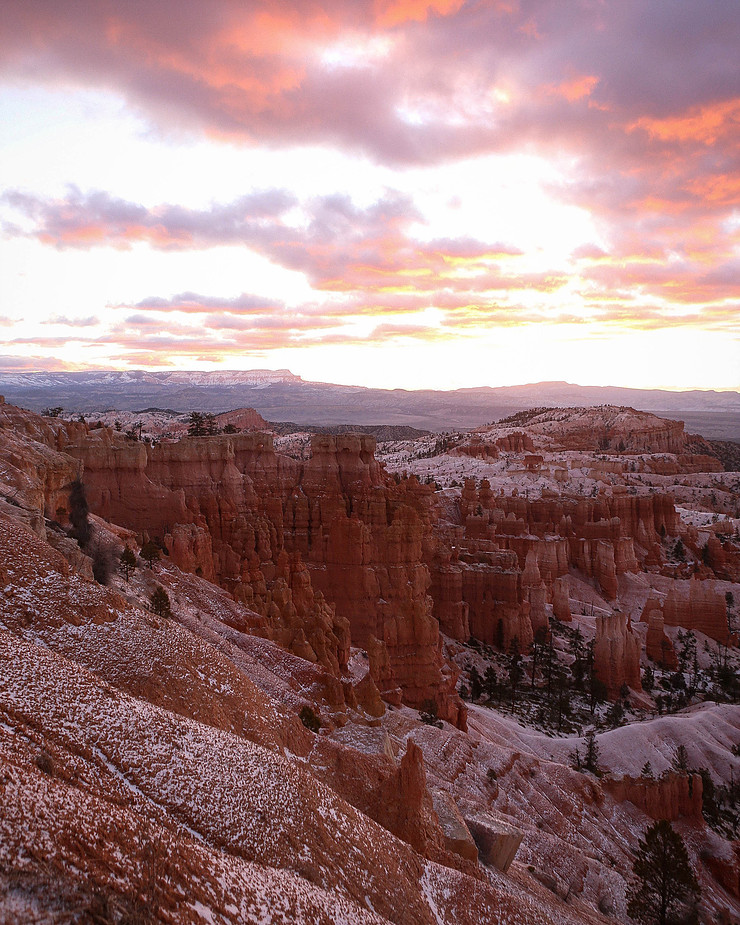 Since we didn't have much of a plan we went to the lodge in Bryce Canyon and edited some photos while drinking coffee, trying to put together how we just witnessed what we did.
Turner looks at me and goes "Okay we're going to where your soul was born tonight" Not asking any questions I just nodded and then we were on our way to Capitol Reef National Park.
Side note: I had no idea how many National Parks were in Utah, let alone in only a short driving distance of one another. It made for such a relaxing but jam packed trip.
20 miles or so on a dirt and bumpy road later, we pulled into one of the most untouched places I've been.
There was only one other car here that had an older guy just waiting for the sun to set. We did the same. I could hear the whistles of the wind, the way the bushes moved from side to side and only the steps of our feet. Some of my most favorite sounds. The pure beauty of being wild.
We took some portraits here because how could we not?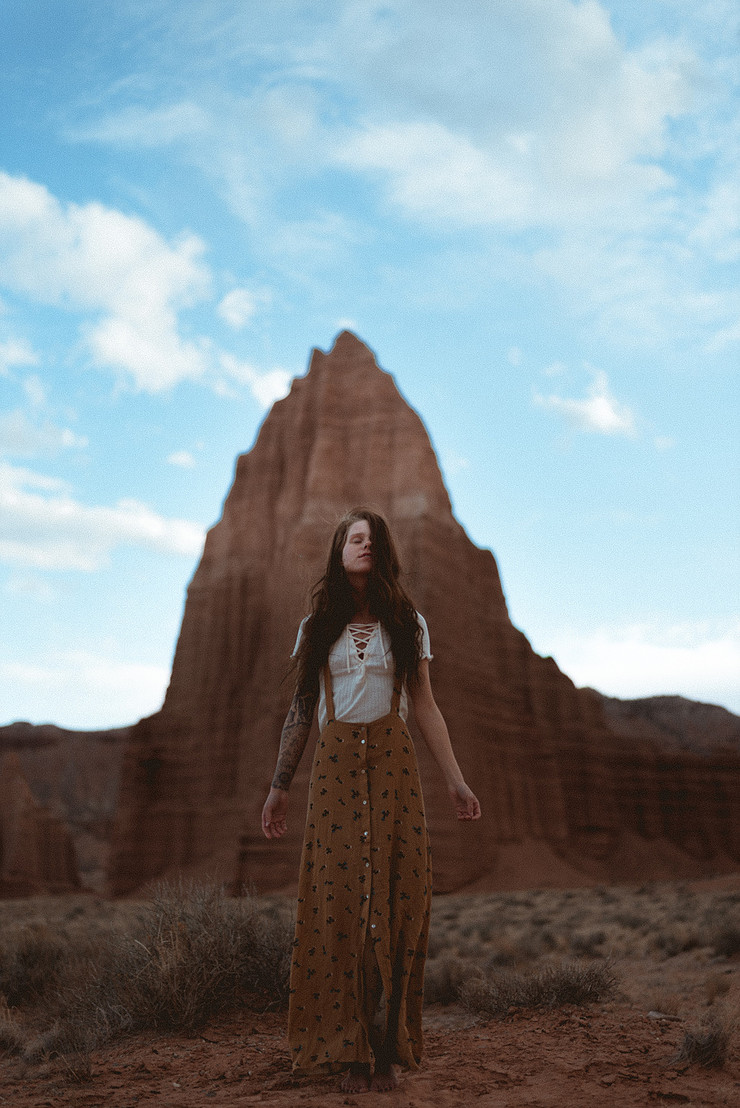 It was honestly a place that I felt my soul was created. It spoke to me in ways other places haven't. It had my heart and soul before I even knew the name of place. Isn't it crazy how that's possible? That a place you don't even know of can become your new favorite spot that same day..
Again, I was trying to gather my thoughts and words to share what I was feeling not only with you guys right now. But myself. I was completely free. Of thoughts, problems, worries, feelings, everything. I just stood. Letting my body take in everything I could. I felt like my soul was waiting for this moment, I felt so refreshed.
We stayed here that night because I couldn't say goodbye just yet.
6:30 AM our alarms went off and we couldn't even see out the back window because it was covered in snow. We didn't believe the park ranger when she said it could snow that night since I was running barefoot in my skirt around here and felt warm.
But sure enough it did. There wasn't much of a sunrise, just a simple parting of clouds to make room for even more clouds. Turner got out and talked to the older guy we saw the night before and took some photos, I sat in the truck and wrote in my journal. The only relatively close words I could get out of myself to describe this place.. I found my soul in places my body hadn't even physically been before.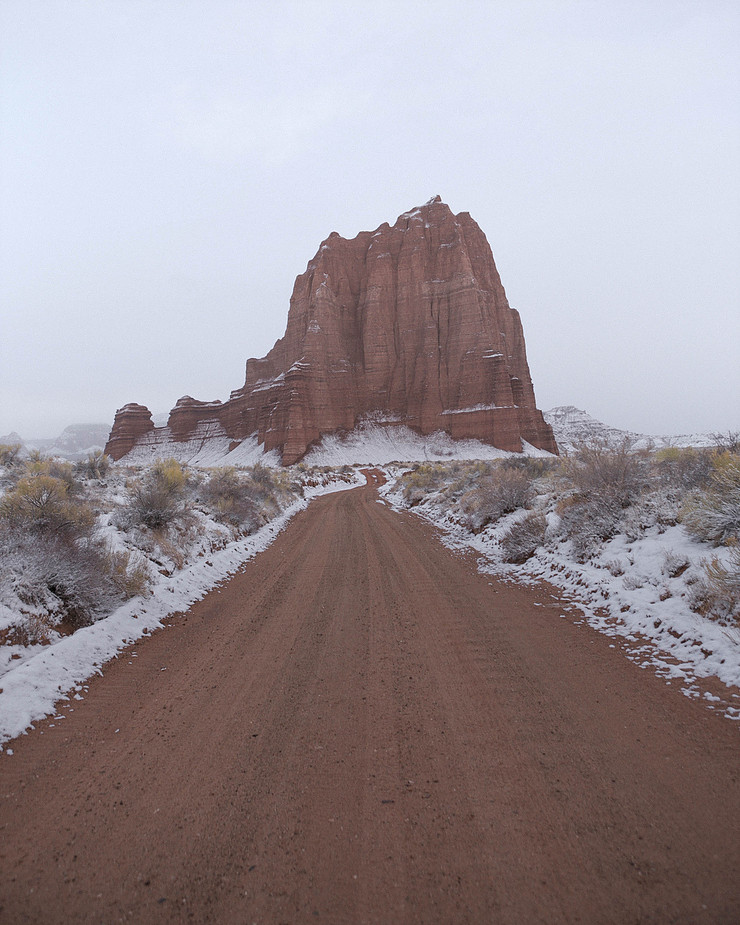 After saying a hard goodbye we were off to another place that has been on my bucket list for a year or so now. Monument Valley.
We got here right as sunset was happening, we were racing here the whole way because we thought we were going to miss it. But we made it in perfect time.
This moment was nothing short of perfect. I saw Monument Valley go from the burning red to silhouettes. Having a place on your list for what seems like forever and then being able to stand face to face with it. It seemed too good to be true. Turner and I sat on the side of the road watching cars pass by, leaving and entering. It's seriously these little moments that piece together what I call my life. I'll always look back on these photos and remember exactly how I was feeling, exactly the sound of the cars, the scream I let out when I opened the truck door and ran out to the road.
I'll remember it all, because some moments are too great to ever forget.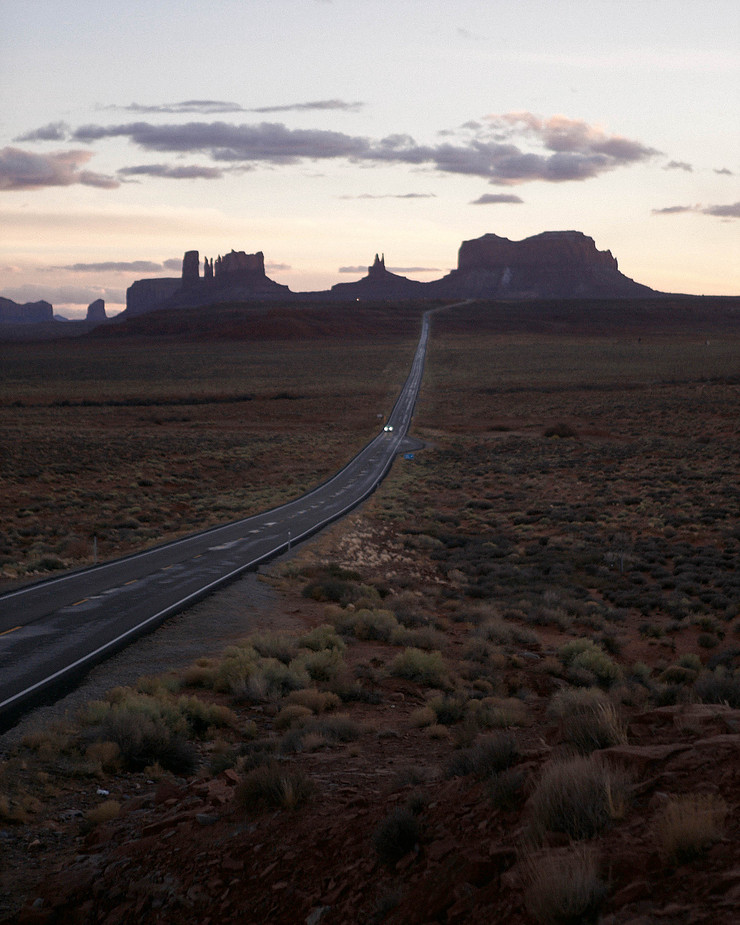 We boiled up water and made Cup of Noodles, dinner for the like fourth night in a row. Since we're obviously very creative with our meals on the road.
After a long night of tossing and turning, trying to sleep in the hotel parking lot. I was actually okay with waking up for sunrise. Knowing it would be in this magical place.
All we had to do was drive down the road about 30 seconds to get to this beauty of a view.
I sat on a rock and felt my soul immerse into the valley. I was again leaving my heart in places that I know I could never get back. Meaning i'll only have to come back and visit again.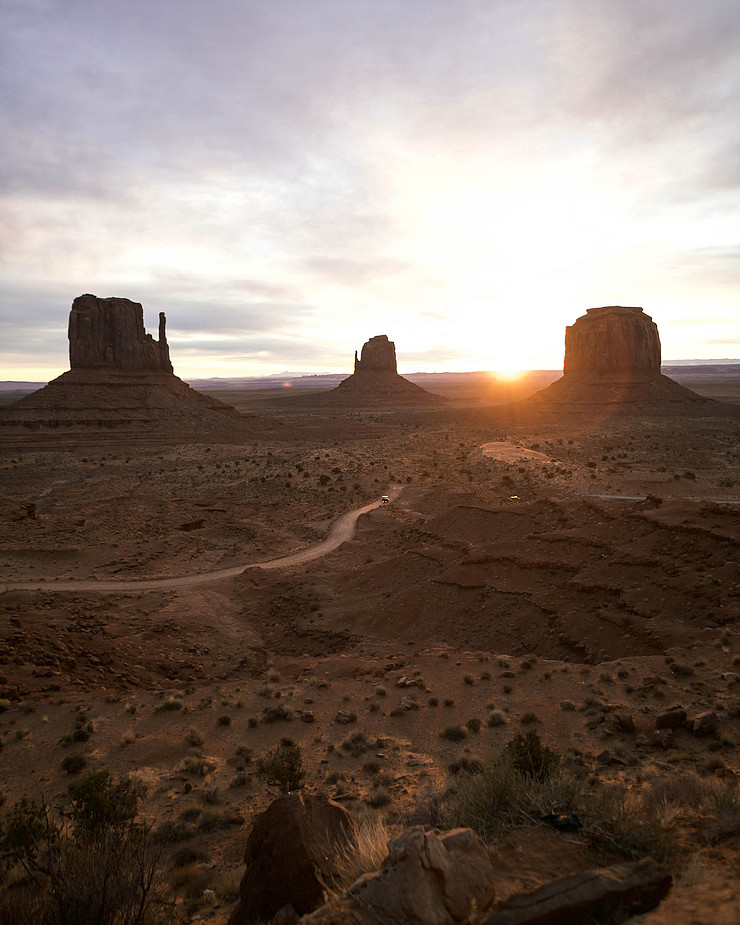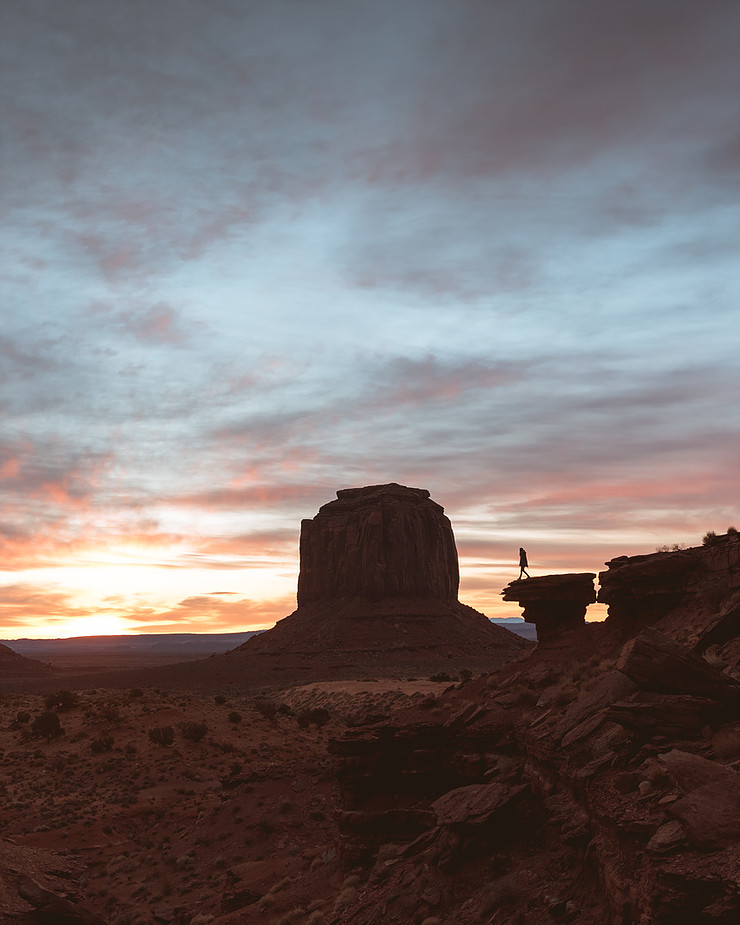 It was seriously and as cliche as it sounds, a dream come true. To witness this morning.
Since we didn't have much of a plan to begin with, we obviously didn't have a plan for the day. We could stay in Utah area or drive down through Arizona. So we chose to go to Horseshoe Bend in Arizona, it was completely filled with tourists making it not that fun.
After throwing out some ideas we came to the conclusion that we would drive 6 painful hours to California where we'd go to Death Valley for our first time. We barely missed sunset which was our only unlucky moment this whole trip. So we just shrugged it off and then drove to Alabama Hills.
From the 6 hour drive we had that day we were both coming delusional at this point. So when we finally got here we both knocked out in the matter of seconds.
When our alarms went off the next morning it was so cloudy we didn't even think there was going to be a sunrise, that was until we turned around and saw the sky change colors for a quick two minutes.
We took photos as quickly as we could before the clouds came back and again it was gloomy. I think this was Mother Nature's way of saying goodbye to us as we made our way back home.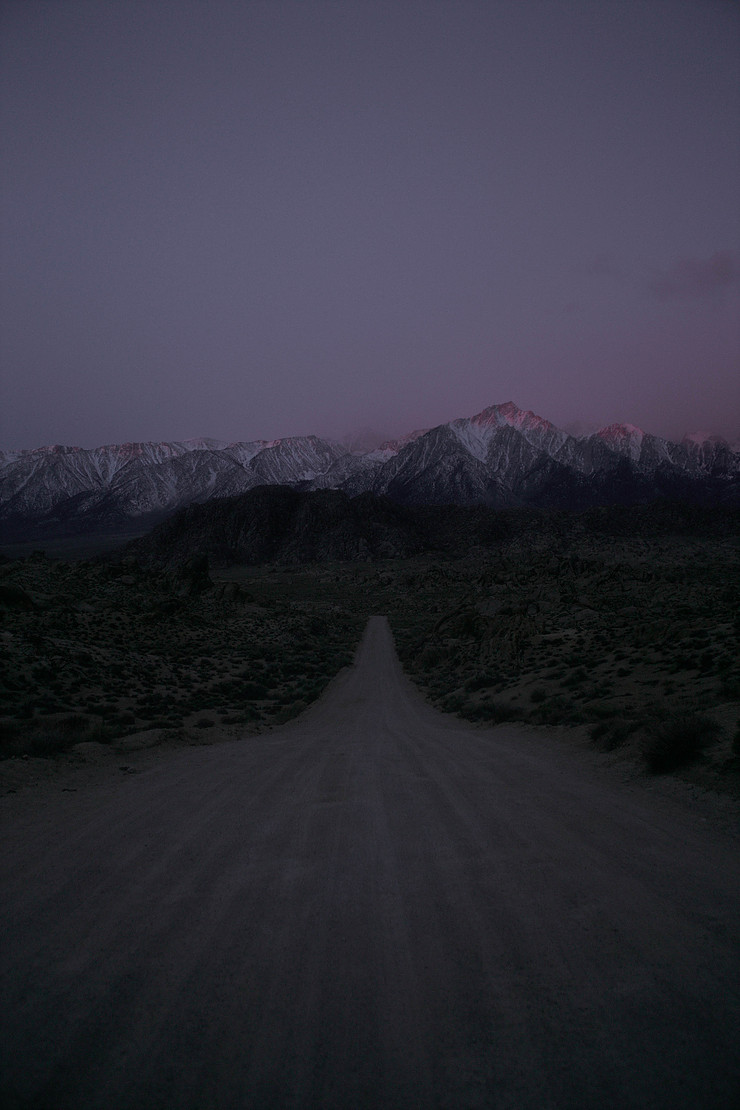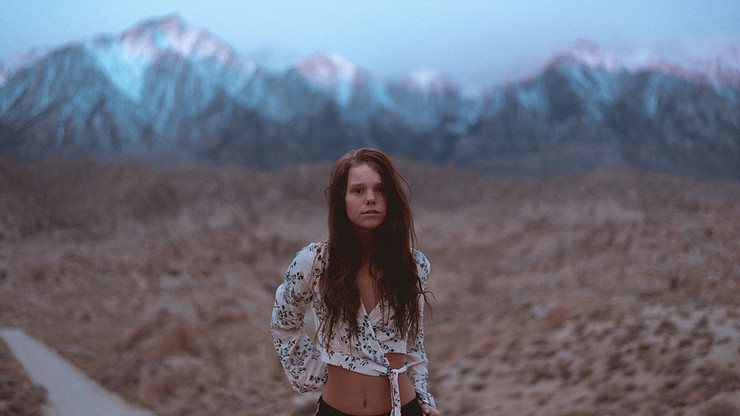 After an amazing sunrise we decided to go to Mammoth Lakes since we wanted to end the trip with some relaxing at hot springs. We got here at the perfect time, just as a group was leaving and as it got even more gloomy. Making it that much more enjoyable. Nobody was around for miles upon miles. We quietly sat here for an hour or so, reflecting on our trip. I came to the conclusion this was the best road trip I've went on. Getting to cross off so many places you've dreamt of going is the best feeling.
I believe that because we had no intentional plan for this trip, that, that's why it went so perfectly.
Since we had no expectations for it. But let me tell you, if there was any. Utah definitely exceeded them.
It's not goodbye though, just a see you later.
There's still pieces of my soul left there that I need to find.
Another sidenote: Turner took a film and disposable camera on our trip
Here's some of my most favorite raw memories on our trip. These photos only mean so much to you but the memories and feeling behind them all is indescribable and that's exactly why I'll always continue to do what I do.